Bert de Vegt to speak at hot topics in food microbiology conference
Hot topics in food microbiology conference
Conference: 17 – 18 October 2017
Campden BRI, Chipping Campden, Gloucestershire, GL55 6LD, UK
Members of Campden BRI: £350 + VAT
Non–members: £450 + VAT
Group discounts available on request. Contact Marcelle Cowley or Fiona Cawkell.
Conference summary; microbiological issues
Food poisoning and spoilage caused by microbiological issues represent a significant risk to the food and drink industry in terms of time, costs and potentially damage to the brand. Keep up to date with the hot topics in food microbiology with this conference. The conference will look at current areas of concern and emerging issues and will cover the following:
Campylobacter

Toxoplasmosis in England and Wales

Latest methods for the testing and identification of moulds

An assessment of lightly cooked food (inc. sous–vide) at the point of consumption in England

Validation of test portion pooling for Salmonella detection in food
Diversity of B. cereus group strains

Microbiology Criteria

The response of foodborne pathogens to osmotic and desiccation stresses in the food chain
Who should attend?
Food and beverage laboratory personnel, microbiologists and technical managers, food manufacturers, quality assurance staff, food safety managers.
Programme
11:30 Controlling L. monocytogenes in meat, cheese, salmon and vegetables with organic phage solutions
Bert de Vegt, Micreos Food Safety
Phages are the most abundant microorganisms in the world and are used for targeted bacterial control for food safety and human and animal health. Listeria contamination is typically found on the outside of food products. Phages can effectively be applied as surface intervention against Listeria contamination in ready to eat meats, cheese, salmon, vegetables, resulting in a 1 – 3 log reduction. Phages are very specific, Listeria phages only kill the Listeria genus. Therefore, phage technology cannot mask bad hygiene, nor will it interfere with starter cultures in cheese making. Phages are considered a processing aid, hence no labeling required, and there is no effect on the colour, texture or taste.
The full programme overview can be found here.
Speaker: Bert de Vegt, Micreos Food Safety B.V.
Bert de Vegt is a Dutch citizen of the Kingdom of the Netherlands. He graduated 1994 as Master of Science in Food Technology from the Wageningen University in the Netherlands. He holds an International MBA from Nyenrode University, also in the Netherlands.
Bert started his career at Purac Corbion in 1995. Over the course of 20 years he had various leadership positions in the company. In 1996 – 2000 he moved to the Purac office in Chicago attending the North American meat and poultry industry. From 2004 – 2006 he moved to Sao Paulo, Brazil where he became the commercial director for Purac Latin America. In 2007 he joined the Purac board, having the global responsibility for sales, marketing and innovation for food markets. When Purac became Corbion he was a member of the global executive team. Under Bert's leadership, Purac/Corbion developed and marketed the golden standard for Listeria control for the North American processed meat industry.
In 2015, Bert joined Micreos as the Managing Director for Micreos Food Safety. Micreos is a Dutch biotech scale up, pioneer and market leader in the development of antibacterial Phages technology for Food Safety and Human Health applications. Micreos Food Safety has two products on the markets, organic phage solutions to combat Salmonella and Listeria.
A full list of speakers can be found here.
Conference dinner at Ettington Park Hotel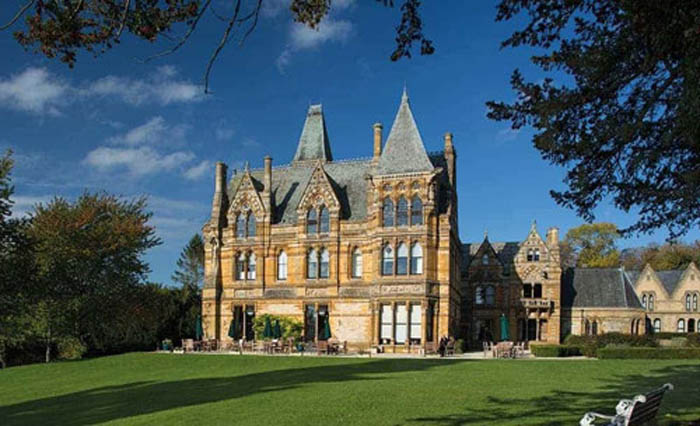 Conference dinner and 'table magic' in the Long Gallery at the beautiful
Ettington Park Hotel
, Alderminster, Stratford–upon–Avon, Warwickshire, CV37 8BU. Ettington Park is a spectacular neo–gothic mansion situated six miles from Stratford–upon–Avon in the picturesque Stour Valley. The Shirleys, one of Warwickshire's oldest families, owned Ettington for many years. Their lineage can be traced back over a thousand years. There is also archaeological evidence that there has been human habitation in the area for at least 2,000 years. It is very much possible that a Roman villa once existed on the site of the Ettington Park Hotel, which since that time has undergone many transitions.
Event Director: Fiona Cawkell
Click here for the full overview on the official event page.
Sponsored by
Share this news article